March 17, 2023
Three Reasons Why It's Best to Buy First
You've just learned about a brand new community being built in the perfect area for you. The home plans look amazing, the amenities are top-notch, and the low-maintenance lifestyle is calling your name. Construction has started and the first homesites have just been released. Should you be one of the first to move in? The answer is... absolutely! And there are three great reasons why.
When a community is first launched, the builder often offers introductory pricing to generate interest, get sales going, and lay the groundwork for success. Early sales are necessary in order to secure funds to continue building. The pricing at the time of launch is the lowest it will ever be, so that the first homes sell faster. And when buying in a Cornerstone community at the time of launch, you can lock in your pricing and have the security and reassurance you made the right choice on your next adventure.
Some prospective homebuyers may wonder if home prices will come down as the cost of lumber decreases, and if that's a good reason to "wait and see." The reality is that lumber still costs about $300 more per 1,000 board feet than it did pre-pandemic. Based on buying and demand cycles, that cost is only expected to increase, along with the cost of other materials, like paint, latex, and metal products. Home prices are on the upswing for the foreseeable future, so you can bet that the prices offered at launch will be the lowest they'll ever be in that community.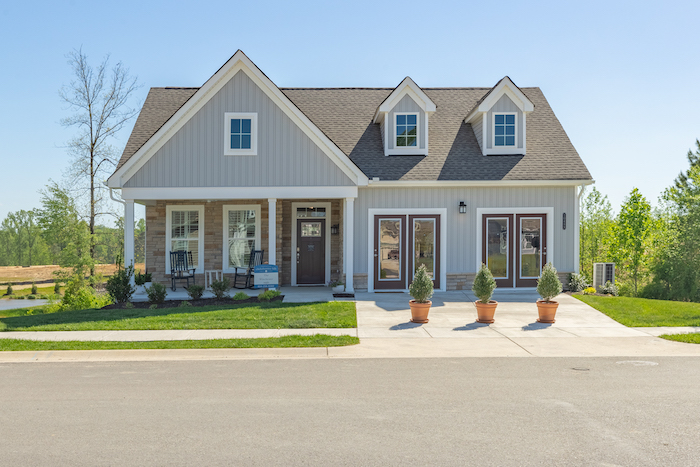 The early bird gets the worm. Or in this case, the coveted corner lot! When you're the first to buy in a brand new community, you have your pick of all the released homesites. Corner lots and large homesites that back up to green space are usually the first to go, so if these interest you, be sure and act quickly. Even if you prefer a lot that has neighbors on both sides, the earlier you buy in the development process, the higher the chance that you can choose exactly where you want your house to be located.
Because launch pricing is the lowest, you'll start building equity sooner as the homes around yours increase in price — either from market demand or from the cost of materials. For example, home values in the Norfolk, VA area have increased 12.9% in the last year, and based on the trajectory, they're not slowing down anytime soon. The sooner you are able to buy, the faster you'll be able to build equity. Even if you're not planning on selling your home anytime soon, it's always nice to know you have equity in your home to borrow against should you ever need it.
If you are looking for a 55+ active adult community in the Hampton Roads area, we invite you to be among the first to consider the brand new development of Church Square! This boutique new home community in Smithfield, VA will feature award-winning, farmhouse-style villas and paired homes that offer single-level, low-maintenance living at its finest.
Our brand-new phase 2 villas are under roof and these floorplans are coming to life! Your clients will love our open floorplans with plenty of storage, luxurious owner's suites, private outdoor spaces, and large 2-car garages. And did we forget to mention, ZERO-thresholds and all of your daily needs on ONE floor?
.
Schedule an appointment today to learn more about our quick-delivery homes in Smithfield's favorite boutique community, Church Square.