February 23, 2022
New To Love at Chickahominy Falls
The lifestyle at Chickahominy Falls has always been created with part heart and part soul. You can see it being harvested by the bushel, bag, and basket at Woodside Farms. The big, red Barn has become the gracious host of goodness gathered by the class, party, dinner, and market. And now there is even more to love coming this year.
Read on for all that is planned to add to a lifestyle you'll love:
The Farmhouse:
There is certainly a method to the magic that is The Farmhouse. Creating a place made out of wish lists and whimsy and, of course, the Cornerstone Homes imagination. A place to spark joy and host everything from events, happy hours, pool days, and your morning workout. See where we came from and soon, you'll see where we're going. The Farmhouse is opening up this Spring.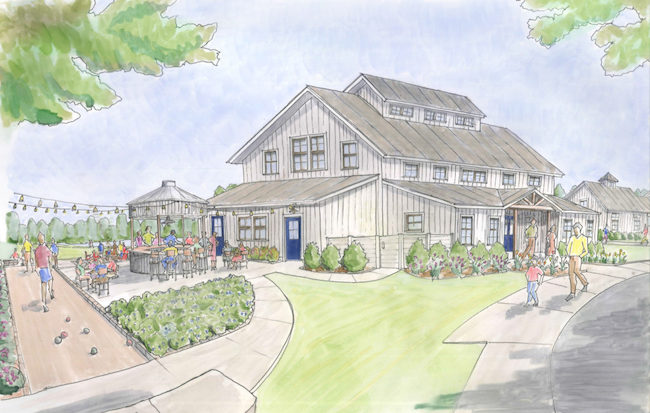 The Silo Bar
An old silo will be given a fun new purpose as the centerpiece of your happiest hours. Under a canopy of garden lights, share a drink with friends. Or settle in around the firepit or outdoor kitchen and give your social life a place to live.
Fitness Center
Designed for everyday fitness, The Farmhouse Fitness Center will help you take care of yourself. With two separate rooms, a fitness studio and cardio and weight room, to keep you in charge of your health and wellness journey. With equipment designed specifically for the 55 and better community, this place is all about working out.
The Pool
Vacation vibes will be happening right at home soon. Take a dip in the pool, lounge on the oversized pool deck or in an in-pool lounger sitting on top of the pool shelf. Pack a picnic lunch and eat at one of the 4 top tables under the shade of an oversized umbrella. Or meet at one of the outdoor farmhouse dinner tables for a family style meal with friends, served poolside.
Butterfly Garden
There's something about nature that does things for the soul that nothing else can. And this pollinator park serves more purposes than just one. Unique in its beauty and the experience it provides, the Butterfly Garden not only looks good, but supports life, too. Take a stroll, then take a seat and immerse yourself in a dynamic ecosystem that changes from season-to-season and year-to-year. This pocket park is being planned in River Falls and will be inviting residents to enjoy its natural beauty later this year.
Woodland Garden
Pine forest paths will lead to a scene dripping with storybook charm. Little Meadows will play host to a Woodland Garden inside the pine forest where a wood burning fire pit will be illuminated by a perimeter of hanging twinkle lights. Adirondack chairs will be arranged to take in the magic and serenity of this not-so-secret garden.
Trail System and Pond
The ever-growing network of trails are another sign of neighborhood progress. With every new section being developed, a new pathway grows to connect streets and friends and nature and neighbors, just the way Chickahominy Falls was designed to do. Including the trails around the pond, a neighborhood hotspot and focal point. Seating around the pond invites folks to kick back, rest and take in a moment. The fishing pier and smaller fishing dock are complete and the perfect scene for memory making with the grandkids. To learn more about the thriving wetland eco-system and its fish, birds, flora and fauna inhabitants, check out our recent interview with the Crescent Group Land Development Project Manager.
Follow your heart to a lifestyle you'll love today and into the future. When you invest in yourself, it pays the very best dividends. There is never a shortage of ways to diversify your happiness at Chickahominy Falls. Learn more about Chickahominy Falls and its happier, healthier lifestyle here.