August 22, 2022
Timely and Lasting Features In a Cornerstone Home
At Cornerstone Homes, we believe that life is full of surprises. As you venture into this next wonderful phase of life in your new home, rest assured that our homes are created to work for all people, no matter what life throws at you.
We understand that you want a home that simplifies everyday living, accommodates life changes, and allows you to spend more time doing what you love. That's why we build our homes with timely and lasting features that allow you to grow in your home and enjoy a world of possibilities without any barriers.
Our variety of universal design elements provides safety, comfort, and convenience, all while contributing to your home's contemporary appeal. Unlike traditional homes, Cornerstone homes are friendly and convenient for everyone — from grandchildren to grandparents. Let's talk about some of our included comfort features:
Single-Level Living:
With all of your daily needs located on one floor, accessibility, heating and cooling, and transitioning to outdoor areas has never been smoother. Higher ceilings and open floor plans make for easier living, and of course, no more running up and down stairs!
Natural and Supplemental Lighting:
Large, open windows and optimal lighting ensure that your home is always well-lit, day or night. Forget about fumbling through the dark — we'll light the way!
Flex Spaces Designed for Living:
Whether you need a home office, grandkids' game room, or the perfect getaway space for a quiet moment, our floorplans have dedicated rooms that create the flex space you need to fit your lifestyle.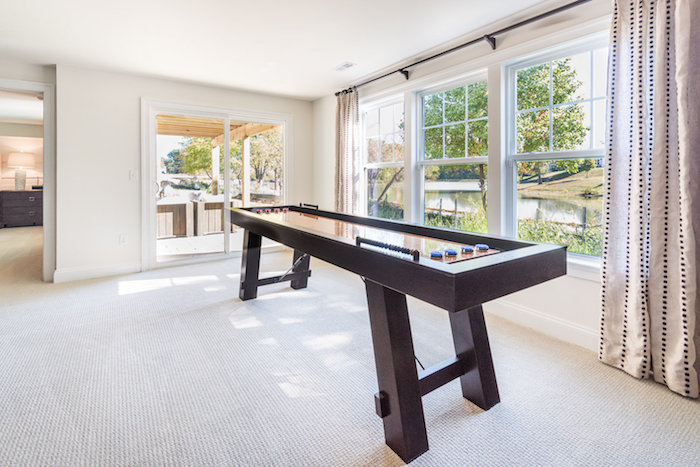 Zero Threshold Owner's Entry:
If you've ever tripped while entering or leaving your home - with an arm full of groceries or rushing out to an appointment, fear no more. This error-free entryway guarantees that you get into your home as easily and safely as possible, every single time.
Electrical Socket Night Lights:
Located in both the kitchen and in your owner's bath, these lights provide prime nighttime visibility. When you need to get up at dark hours of the night, you can get around without a hitch.
Wide Design:
Gone are the days of feeling stifled or stuck. In a Cornerstone home, you'll enjoy wide, accessible hallways, doorways, and living spaces, so getting in and out is always a breeze. Bonus: Wide design makes moving easy! Your king size bed frame or large antique dresser will fit through doors and hallways without a problem.
Visible Flooring Transitions:
Let's face it, flooring should never be an obstruction. We offer a variety of designer non-slip flooring transition strips that provide danger-free accessibility from room to room.
Lever-Style Door Handles:
In a Cornerstone home, you'll enjoy lever-style door handles in a stylish brushed nickel finish for the easiest entry ever. Door handles like these make bringing all the groceries in on one trip a breeze!
Structural Support for Grab Bars:
No matter what your age is, we all need a little support from time to time, especially in the slippery shower! Rest assured that your bathroom is a safe space with structural support for grab bars on the walls. Let us give you a hand!
Comfortable Height:
Taller bath countertops prevent you from having to hunch over as you're washing up. Similarly, taller toilet seats make sitting and standing so much easier and reduce strain on your back and knees.
No other builder in Virginia spends more time and resources implementing ways to make sure our homeowners live happier, healthier, and more engaged lives. That's why you can rest assured that our homes make living better today and in the future. Leave your worries at the door; your Cornerstone home will be ready for your lifestyle from the very start!