December 23, 2020
Looking Ahead To a New Year
Every December, it's so nice to take some time to slow down, reflect on the past year, and of course, look forward to what's ahead. Although 2020 presented some challenges, it allowed us to realize just how special home is, as well as embrace the little joys that make life so sweet, from trying out new hobbies to connecting with friends, family, and neighbors in any way possible.
As the year comes to a close, we invite you to acknowledge what you're grateful for! Showing gratitude not only helps to reduce stress, it increases positive feelings that give you a new perspective.   
Home is where we all spent a lot of time this year. And, as a homeowner living in a Cornerstone Homes community, the unique design features of their homes were put to the test for comfort and livability!   Expertly and thoughtfully designed with timely and lasting features to maximize comfort, as well as unique details that create the perfect atmosphere, our homeowners felt a sense of peace and joy being in the place they needed to be, even in the midst of chaos! Grateful for the decision to live in a new home built for their lifestyle and a welcoming community filled with their peers.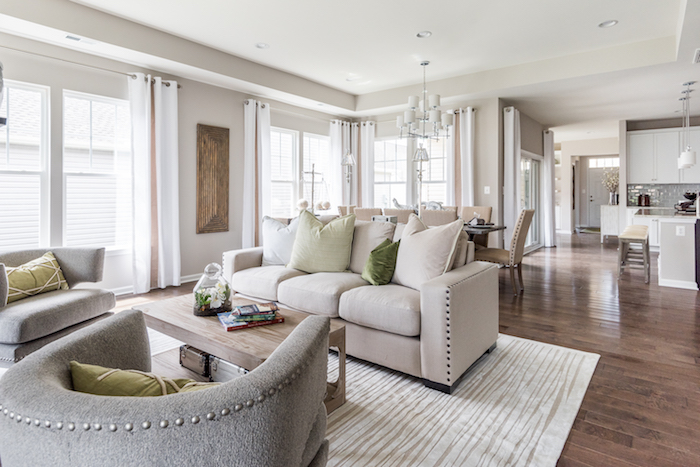 Timely and Lasting Features: With a maintenance-free exterior, wide hallways and doorways, lever-door handles, a no-step owner's entry, no-step thresholds, raised-height vanities and toilets, shower benches, and more, your Cornerstone home always has your back, no matter what life throws at you. Whether you're sipping coffee on your covered patio or in your sunroom, or enjoying company in your open-concept living area, every moment at home is centered on total comfort.
Single-Level Living: The joys of the "single life" will never get old! In your Cornerstone community, you have so many opportunities waiting outside your door, from amenities to nearby fun in town — which is why all of your energy should go toward enjoying your day, and not dealing with the hassle of going up and down stairs, over and over again (especially when you're doing laundry)! After you come inside from a day out exploring, or even just relaxing on your patio, your home provides a new level of comfort and convenience.
Sense of Community: One of the best things about living in a Cornerstone home is having a "home away from home" just outside your door — friendly neighbors who become just like family. From planned social events to impromptu get-togethers in your courtyard, everyone here loves to interact and connect with each other over shared interests and passions. While interactions may have been a little different in 2020, there was never a shortage of hellos and smiles and neighbors looking out for each other.
It's almost time to ring in 2021 and welcome the exciting possibilities ahead.  Soon enough, you'll be able to enjoy the fun of social events, vacations, movies and concerts, visits with your grandkids, and so much more.   In the meantime, enjoy your holiday season in new and grateful ways and decide where you want to be in 2021!  It's up to you!