July 23, 2019
Lakeside Living at The Cove in Magnolia Lakes
Living the Lake Life! There are many benefits of living at The Cove at Magnolia Lakes, in Chester, VA. The location is superb, the stylish, single-level homes are designed with your lifestyle in mind, and there are outdoor amenities galore.  All surrounding a serene and peaceful lake.   Life just got happier and healthier!   
It's here and it can be yours.  Escape the hustle and bustle and come home to a home with a view, fresh air, and the gentle buzz of nature.  Your senses will awaken to a whole new way of living.   At The Cove, we made sure you will have outdoor options galore from socializing to relaxing, to multiple fitness opportunities. 
The Lakeside Pavilion and Boardwalk
When you're near water, you naturally enter a meditative state called "the blue mind," which puts you at ease, rejuvenates your senses, and elevates your happiness. Head down to our pavilion, where spontaneous socializing can happen at a moment's notice.  Soon, you'll be hanging with a whole crew of new friends. With a boat launch, benches for relaxing, and breathtaking views, every moment spent here is entirely magical!  Not to mention, there are tons of great photo opps – sunrises, sunsets, wildlife, and great backdrops for selfies.  Say cheese and gather in this great place!
The Pointe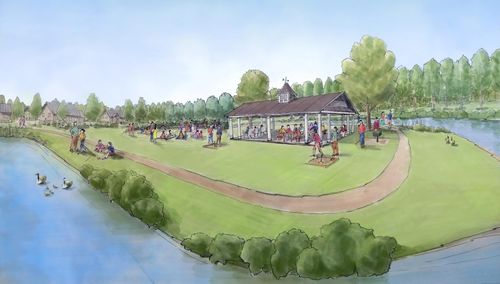 Ready to be enjoyed later this year, The Pointe will be your go-to for all things lakeside fun. You'll find an outdoor pavilion, grilling stations, amphitheater seating, an event lawn for games and relaxing, and so much more.  Start planning your parties, cookouts, and bonfires.  When you combine the lake with food and outdoor activities, you can socially connect with other like-minded neighbors who enjoy the same thing you do. 
Fitness, Fresh Air & The Lake
Canoe, kayak, fish, walk, and run the trails around the lake and through the community. Breathe the fresh air and soak up the sunshine while listening to the sounds of nature.  Your dog will be forever grateful to have so much space to play! At The Cove at Magnolia Lakes, there are abundant places to gather and explore.  


The Clubhouse and The Pool
The clubhouse, with a full kitchen, fireplace and plenty of room for gatherings and games, is bustling with activities.  The outdoor pool, overlooking The Lake, is a favorite spot for fun in the sun with an outdoor kitchen and bar, lanai with TV and fireplace,  and plenty of shade for reading your favorite book. The Lodge, an additional recreational space  for the community, will be ready later this year. 
Homes On or Near Water
Ka-ching!  A home on or near the water also tends to increase in value quicker.  But, the best part is that you can wake up every day and enjoy your coffee with the water nearby.  
Cornerstone Homes communities are all about lifestyle.  At The Cove, the quality of your life just got better by the lake.  There's nothing quite like coming home to the peace and serenity of a beautiful lake view to help you relax.  
Hopefully, you are now convinced this is the life.  Come experience and see for yourself.  Talk to the homeowners who already live here.    Expertly built,  stylish homes with luxurious features and living-in-place designs.  Water you waiting for?   For more information on our waterfront and water view homes, please visit our website.   See you by the Lake!  #livingonalake