July 12, 2021
Enjoy Peace of Mind with our New Home Orientation
You are getting close to move in day and your new home is coming together! As part of Cornerstone's "Path to Ownership" process, it is now time for you to walk through your almost finished home with a Cornerstone representative to learn about all the features and functionalities and also educate you about how to care for your new home.  This is your opportunity to preview the home before you own it to learn how it functions, how to care for it, and to make sure everything is as you planned in the design appointment.
For your New Home Orientation, you'll meet with one of our knowledgeable warranty managers and he or she will walk you through every square foot of the home — inside and out — so that you can take notes, ask questions, and feel completely confident in homeownership. The Cornerstone New Home Orientation has two goals:
Learn how the house functions, how systems work, and any best practices for safety
Identify any cosmetic items that need to be repaired or touched up prior to moving in — such as on cabinets, countertops, and floors. 
Read further and watch our latest Tuesdays at Two video where we met with Gene Kirby, our Warranty Manager, to walk through the New Home Orientation process and what you can expect during yours! 
The Process
You will meet with your knowledgeable warranty manager and sales manager one week before your closing date.  It is critical to prioritize this appointment because closing cannot happen without it. Starting with the exterior, the team will walk you through how the home was built, why systems function the way they do, review any upgrades you've selected, and important safety information. For any items that need attention or repair, your warranty manager will note them in his paperwork, mark them with tape, and schedule to have them fixed. This is a very thorough appointment and can last as long as you need it to, but in general you should allow for about one hour for New Home Orientation.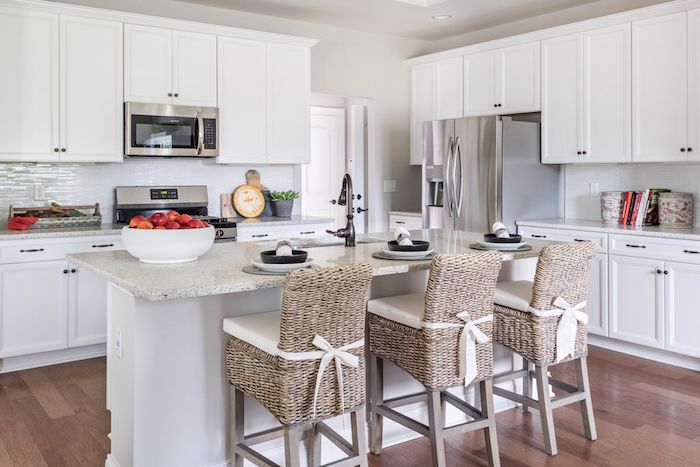 What You'll Learn
All sorts of important and helpful information! Your new Cornerstone home was built to simplify your life so that you can enjoy it to the fullest. Here are just a few of the things you'll learn in your New Home Orientation:
Where the shut-off valves are
How to program the garage
Where the internet hookups are
Where the pest control box is for interior wall spraying
How to program the keyless entry
Where the irrigation system is and how it works
Where the electrical panel is and how the breakers are labeled
Where the hot water heater is and how to set it to away mode
Weight limit for shelving
Where all the switches connect to
Emergency contacts for systems
Explanation of warranties on all the systems
It's a lot of information! A lot of care and planning went into building your new home, so we want to orient you with it inside and out. But don't worry about writing every single detail down; we'll give you a welcome packet that recaps everything we went over and provides information on your appliances, new home warranty, referral information, and more.  And, we will do our best to complete all items before your final walk-through after closing about a week later.
Cornerstone has many resources if you forget some of this important information.   Our website and Facebook page contains helpful videos, such as a virtual Orientation video.  Recently one of our homeowners went back and watched.  Here is what she had to say,
"I was looking at the Cornerstone Facebook site and I watched the June 29 video that you did featuring Gene doing a New Home Orientation. While it was a different community and home design, it was a great refresher for me to watch that video. Jay and Kathleen had done mine and did quite a thorough job here at Barley Woods, but it was a lot to take in. The video really is a great reminder on the seldom-used items, such as gas turn-off switch for the fireplace and the battery use of the fireplace if power goes out, which item closes the hose bibs to winterize, etc. Thanks again for another useful item!"   Charlotte H., Barley Woods homeowner.
Next Steps
The long awaited day has come! The next step is for you to close on your new home, move in, and experience the comfort, ease, and convenience a Cornerstone home brings to your life. At 45 days and 11 months, you will complete a warranty service list with any warranty requests you'd like us to consider. If the items are included in your warranty, we'll address them promptly.  If they are not, we'll give recommendations on how to get the items resolved as quickly as possible. 
You are going to LOVE your new home. So now relax and enjoy. With the Cornerstone New Home Orientation and warranty program, you'll have peace of mind knowing that your home will bring out your happy face for years to come! For more information on our warranty program or any of our 55+ communities in the Richmond area, call us at 804-215-0766 or plan your virtual experience today.