July 13, 2020
Creating a Friendly and Inviting Front Porch
Before TV and air conditioning, homeowners spent a lot of time on their front porch.   It was a place to get a respite from the stifling heat.  Technology somewhat erased the front porch around the 1950's, when radios and televisions started appearing in living rooms.   
Today, the front porch has seen a revival, and more people are using them as outdoor rooms for dining, entertaining and relaxing. I remember as a little girl sitting with my grandmother on the front porch glider and snapping stringbeans or her braiding my hair. We spent a lot of time on the front porch and it brings back great memories!
The porch has regained popularity today as a gathering place for family and friends whenever the weather allows.  Many of Cornerstone's Homes have the option of a front porch.  Combined with our friendly, walkable communities with tree-lined sidewalks, front porches have become a great place to hang out, wave to the neighbors, and watch the world go by!   And, of course, our socially active homeowners love engaging in conversation or to be invited up on the porch while taking an evening stroll!  
To See and Be Seen!
An open porch is a great place to enjoy a quite shady spot to relax and create an inviting entry to your home.  If you create a warm and welcoming space on your front porch, this will be the first impression people have as they come into your home. 
You can create that cozy space by: 
Use outdoor‐friendly pillows, cushions and accessories to make your front porch comfy and cozy. Follow with an outdoor rug and some plantings to finish the look.
Imagine a relaxing afternoon or evening listening to nature and gently swaying back and forth on a swinging daybed or a porch swing to relax and add charm.   An afternoon nap is quickly coming to mind!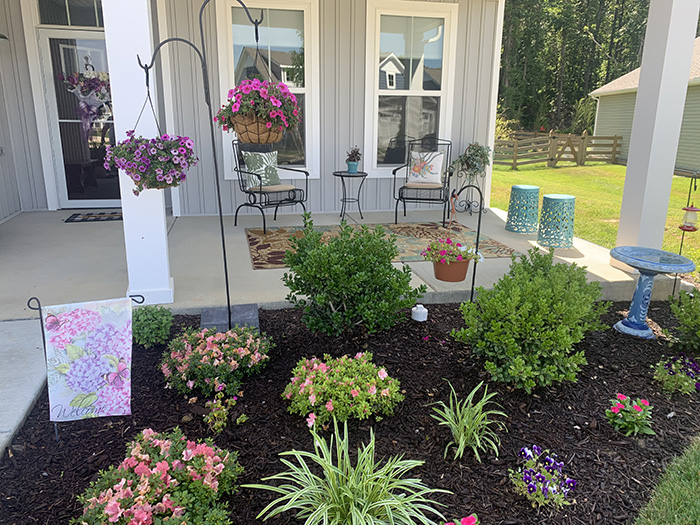 White wicker chairs, pastel pinks and soft greens make for a soothing sit-down on your front porch but remember to compliment your exterior house colors when choosing your cushions, pillows and accessories.
Whether you are on your own front porch relaxing alone or pulling up a chair for a friend to share and unwind, you will very much enjoy having a front porch!  At Cornerstone Homes, we love keeping you connected with our neighbors!   
Come take a stroll and experience what life is like in a Cornerstone Home Community!